Name of Whippet, Location: Adopted: Eddie and Beau, in Nashville TN
Location Category: Now Adopted
Name of foster volunteer: Linda Reiff
Email: lareiff@yahoo.com     Phone:
Address:
Eddie and Beau are 8 year old brothers. They are well socialized, housebroken and understand a dog door. They will do a little counter surfing, but that is minimal. They know how to walk on a leash and are both snugglers.
These two were a pet breeding and are 41 and 40 lbs. respectively. They were originally adopted together, and I hope can be placed together. They are healthy and up to date on vaccinations and heartworm.
Eddie (the darker dog) is the more demonstrative of the two. He will also bark and whine when you leave then calms down and starts up again when you come back.
Beau (lighter dog) is more reserved. He takes a person's temperature before warming up. Once he has warmed up, all is well.
If you are interested in Eddie and Beau, please fill out an application and email their foster at lareiff@yahoo.com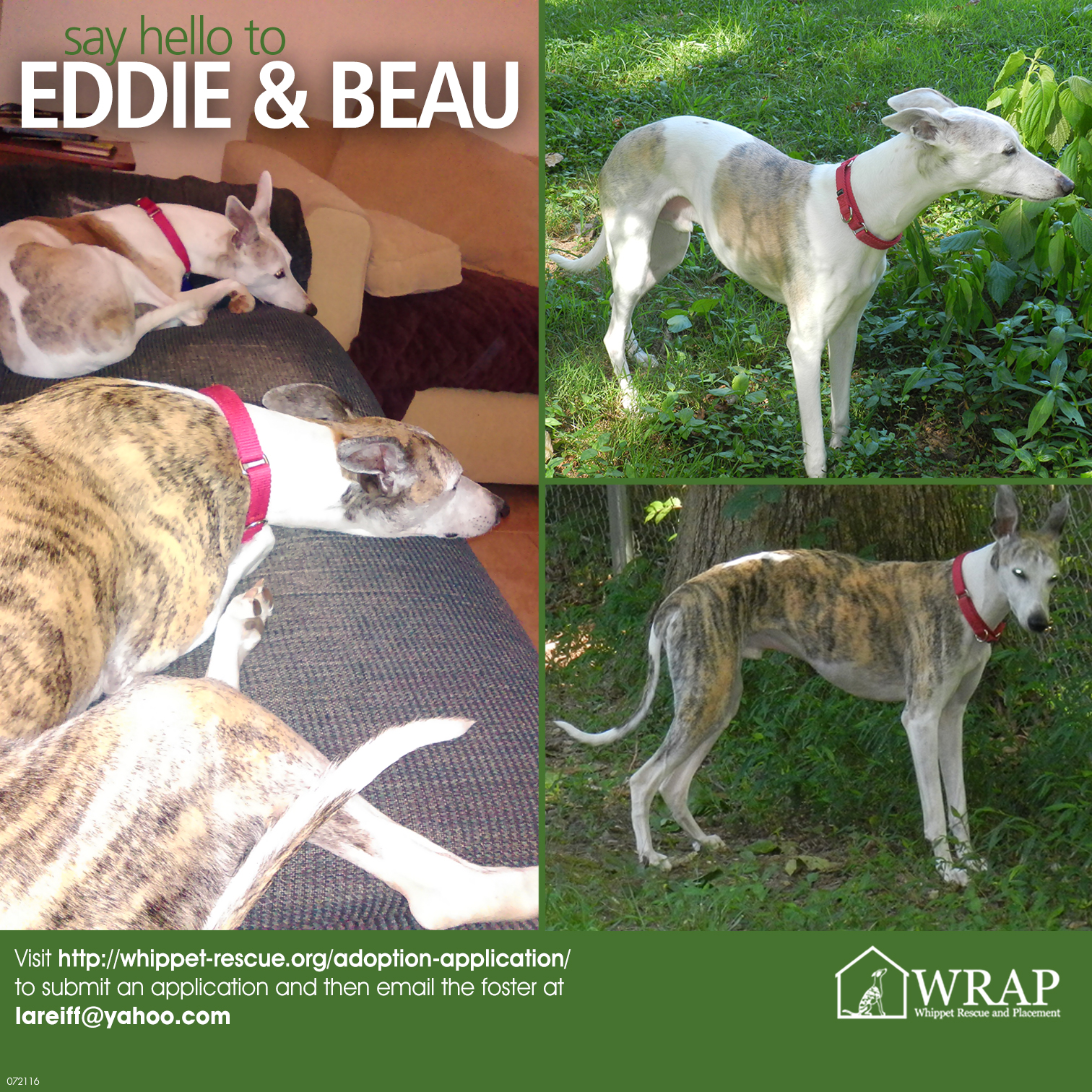 An adoption application is REQUIRED to be submitted before you contact a WRAP foster volunteer about this rescue or others currently available for adoption. Please submit an application. WRAP volunteers may respond to applicants and will make final decisions on adoptions. We will keep your application on file for six months.
WRAP does not ship dogs and prefers to place Whippets in homes within a reasonable driving distance from the foster home. If the WRAP volunteer fostering a dog does not live in your state you may contact them at the email address shown above to inquire after you have submitted an adoption application.