Name of Whippet, Location: Adopted: Leo & Lonnie, 5 & 4 yr old Male & Female in San Antonio, TX
Location Category: Now Adopted
Name of foster volunteer: Dianna Johnson
Email: Copperstar@satx.rr.com     Phone:
Address:
Leo and Lonnie were turned over to WRAP in July 2018 due to no fault of their own when their home life drastically changed.
Lonnie is a 4 year old, spayed white female with a few red patches on her head. She has a weight problem, but her thyroid levels tested close to normal, so it appears that she was simply overfed. She has lost a couple of pounds this week simply playing with other dogs. She is good with other dogs, but do not know whether she is good with cats. She is very "snuggly", enjoying time just laying on the bed or couch next to a person. She puts herself in her crate at bedtime with little to no prompting. She has a good appetite that needs to be controlled, and we've seen signs that she may have been taking Leo's food. She is a "hoarder" of toys and chewy things, and will protect them from other dogs. But she has not snapped at people taking them away from her.
Leo is a 5 year old, neutered red and white male. He is in good weight and healthy. He likes to run, and care will need to be given until he adjusts to his new home when walking on a leash. He is good with dogs, but do not know about cats. He is a little more "solitary" than Lonnie. He likes to snuggle, but waits to be invited. However, it isn't unusual to get out of the shower and discover that he has made himself at home on your pillow while it was unoccupied and warm from where you were laying on it last night. He is crate trained, and goes to it when told "kennel".
Both dogs are house-broken, and learned to use the dog door within 24 hours of arrival. Both are current on their vaccinations, have had regular vet visits with their former owner, currently on Heartgard and Frontline and both are microchipped. Lonnie did have whipworms when taken in, but has since been treated for them. Leo had no intestinal parasites, but was treated as precautionary.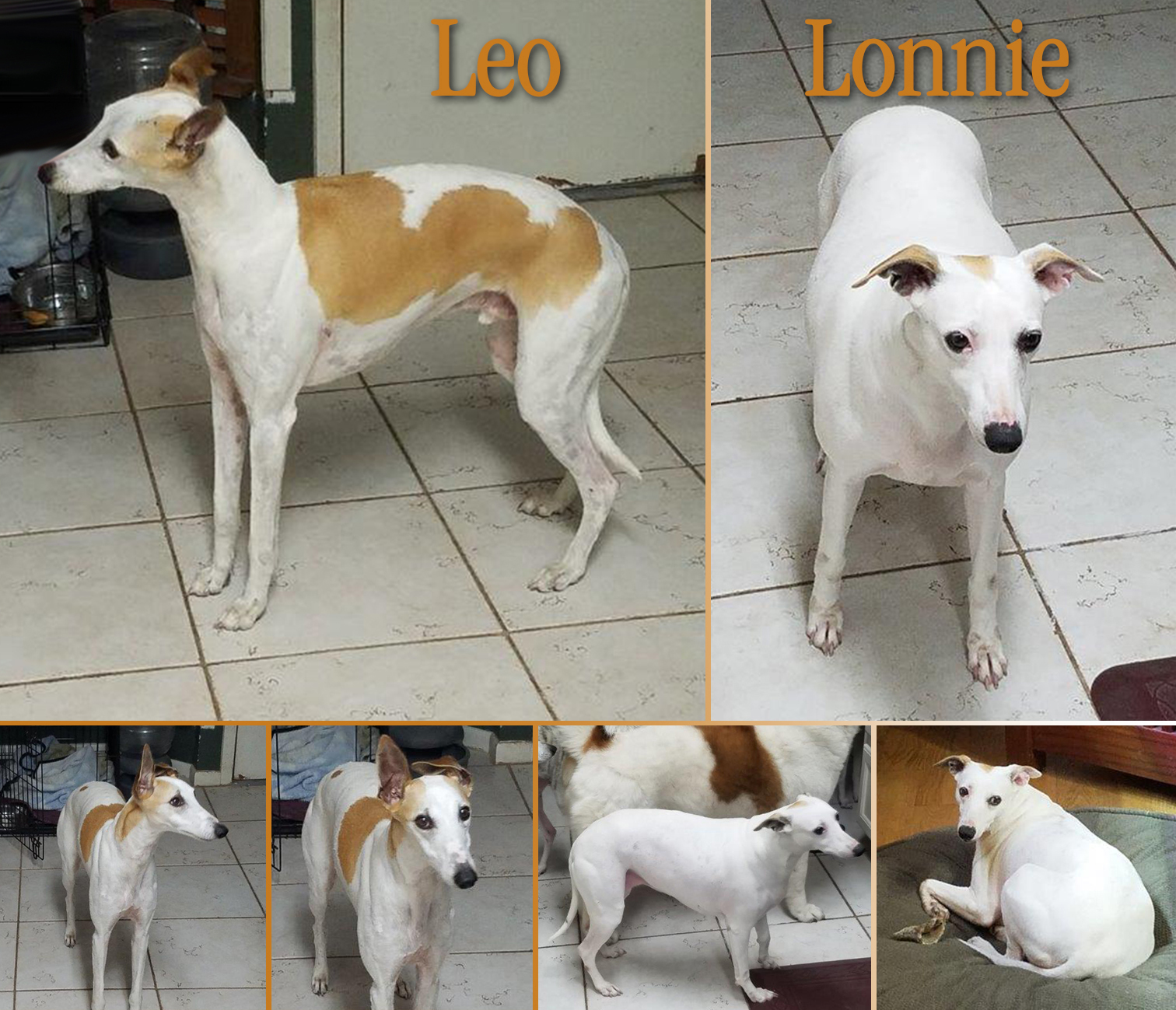 An adoption application is REQUIRED to be submitted before you contact a WRAP foster volunteer about this rescue or others currently available for adoption. Please submit an application. WRAP volunteers may respond to applicants and will make final decisions on adoptions. We will keep your application on file for six months.
WRAP does not ship dogs and prefers to place Whippets in homes within a reasonable driving distance from the foster home. If the WRAP volunteer fostering a dog does not live in your state you may contact them at the email address shown above to inquire after you have submitted an adoption application.