Name of Whippet, Location: Adopted: Tuttle, 8 – 9 year old male, Kansas City, MO
Location Category: Now Adopted
Name of foster volunteer: Kristal Couch
Email: kcouch76@gmail.com     Phone: 918-373-2519
Address: Vinita, OK
Tuttle is approximately 8 to 9 years old. He was an outside dog only and had been abandoned. He loves all people big and small and is very sweet, just a little unsure. He always looks sad even when his tail is wagging. We have been working on crate training with success along with walking on a leash. He still needs to wear a belly band in the house but is getting much better. He is looking for a nice quiet home preferably with a female dog or whippet. He is sometimes a little crate protective but is much better now. We have not tested him with cats. He is current on vaccinations and heartworm negative.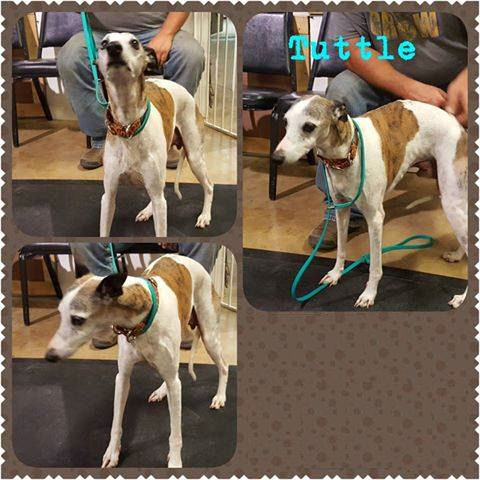 An adoption application is REQUIRED to be submitted before you contact a WRAP foster volunteer about this rescue or others currently available for adoption. Please submit an application. WRAP volunteers may respond to applicants and will make final decisions on adoptions. We will keep your application on file for six months.
WRAP does not ship dogs and prefers to place Whippets in homes within a reasonable driving distance from the foster home. If the WRAP volunteer fostering a dog does not live in your state you may contact them at the email address shown above to inquire after you have submitted an adoption application.