WRAP has no upper limit on Whippets it accepts for placement. Many of the dogs we take in are past their prime and some are quite elderly. The rescuers who take these dogs know it's very likely they will not be able to place them and the animal may spend the rest of its days in foster care. If you have the resources to adopt one of these seniors, please let your closest WRAP rescue volunteer know.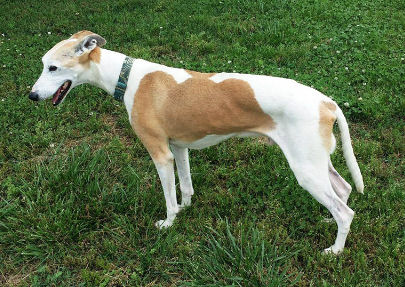 Old dogs are a joy and old Whippets in particular a delight. Yes, it's a bittersweet time — you know your time with your old one is limited — but any owner of a senior Whippet will tell you it's quality time and worth it.
An older Whippet has settled down and doesn't need the exercise he once did. His prey drive has faded and he can't catch the squirrels he once did. He's small, unobtrusive and quiet. He's not destructive and he's housebroken and most of all, he knows the ropes of living peacefully with humans.
The old folks are wiser. Your senior girl doesn't get so excited about company and greets them with a quiet dignity. She's still appreciative of the extra attention they provide. She'll sleep in a sunbeam all morning and spend the afternoon on the couch. Her walks are slower and she allows you to smell the flowers along the way. She accepts your love with grace and dignity.
Who Should Consider a Senior Whippet?
An older person who doesn't want to deal with the training of a younger dog.
Someone looking for companionship for an older dog. Often the family pet who is himself a senior would appreciate the companionship of another dog, but would not like to put up with the antics of a puppy. Another old-timer is just what the doctor ordered to keep a sparkle in his eye a little longer.
A person with something to give. There's a lot of satisfaction in providing a final home for a dog who's been displaced in his twilight years.
And finally, a person who has ever owned an old dog before. That person knows that while puppies are cute and young adults are sometimes fun, the old dogs are truly the best.