Name of Whippet, Location: Adopted: Gilly, 3-year-old fawn brindle female, Chicago area
Location Category: Now Adopted
Name of foster volunteer: Robyn Vogt
Email: Tvrc4@yahoo.com     Phone: 630-935-3455
Address: Franklin Park, IL
Gilly is a beautiful female petite fawn brindle, 3 year old Whippet. She came into our rescue from a family that felt they couldn't offer her the extra quality time she seems to need and deserve. While in her foster home she is co-existing with 2 resident whippets and one Chihuahua and a very social indoor cat and so far has shown no dislikes to the group. She is docile, very sweet and looks for attention, but is also quite content lounging on the couch with crew!
Gilly enjoys romping around with the one resident whippet who has become her BFF, so she may do best with another whippet that would have the same activity level. If placed solo then a family that would have a lot of interaction with her where she'd be the center of attention. Gilly's previous home had children so she seems to enjoy being around younger children, but as always the situation should always be monitored to ensure success.
Gilly is not a fan of being crated, but we are working with her. Her forever home would probably be best if she doesn't need to be crated all day long or if possible someone who works from home. Gilly does have some running instincts, so due to this she would need to be in a home setting, with a secure fenced in yard, no invisible fences. If you think Gilly is the type of whippet you are looking for, please fill out application. Please note we will not consider applications that are further than a 2-hour driving distance from the Chicagoland area.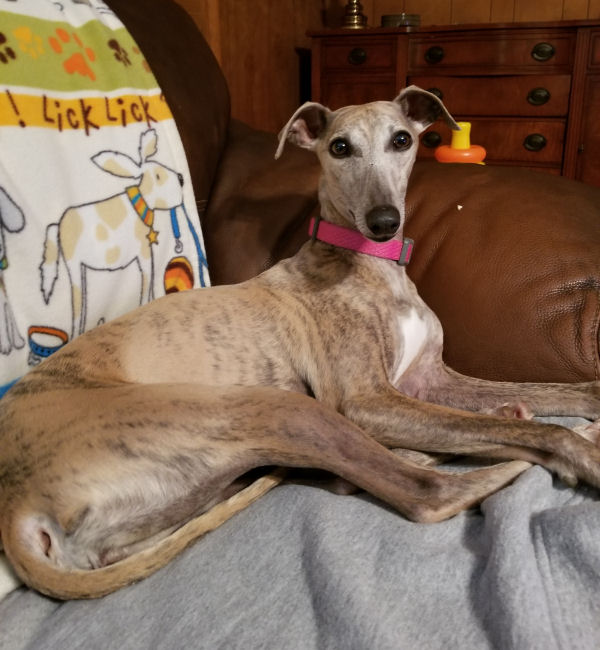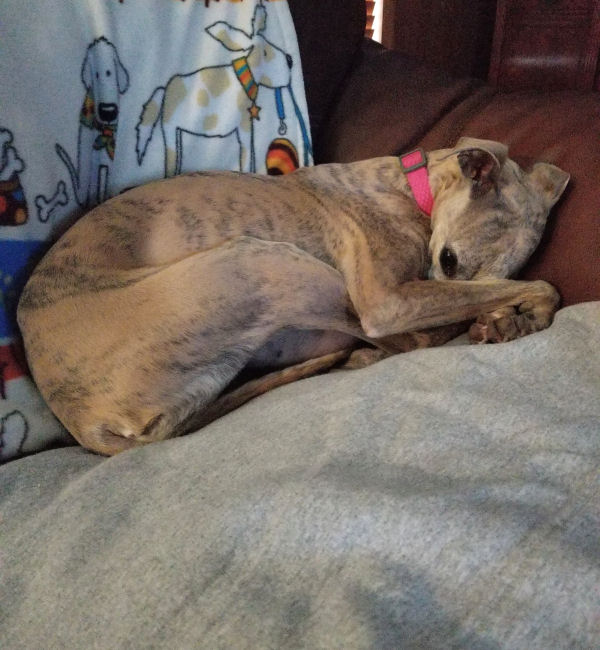 An adoption application is REQUIRED to be submitted before you contact a WRAP foster volunteer about this rescue or others currently available for adoption. Please submit an application. WRAP volunteers may respond to applicants and will make final decisions on adoptions. We will keep your application on file for six months.
WRAP does not ship dogs and prefers to place Whippets in homes within a reasonable driving distance from the foster home. If the WRAP volunteer fostering a dog does not live in your state you may contact them at the email address shown above to inquire after you have submitted an adoption application.