Name of Whippet, Location: Adopted: Shirley and Olivia, two 5-6 year old females in Vinita, OK
Location Category: Now Adopted
Name of foster volunteer: Kristal Couch
Email: kcouch76@gmail.com     Phone:
Address:
Shirley and Olivia are now available thru Whippet Rescue and Placement (WRAP). They are 5/6 year old littermates whose owner has passed away. They are both very sweet and house trained and crate trained. They would prefer a nice quiet home where they can sleep the days away. Olivia is learning that playing could be fun while Shirley is more reserved and enjoys peace and quiet.
They have done well with meeting strangers and children ages 9 to 13. Olivia is more outgoing and willing to meet people, Shirley will bond well to one person but uses her sister for confidence. They are fully vetted, microchipped and do eat separate in their crates just fine. But are left loose in their room all other times.
Olivia does like to dig under fence so I simply laid fence on ground and have stopped that. Shirley will hop my 40″ gate in house but neither have tried to jump my yard fence. Its between 48″ and 52″ depending on where you stand. Their favorite place is simply sleeping on your couch. They have not been tested with cats and Shirley does bark at other dogs.
They must be adopted together.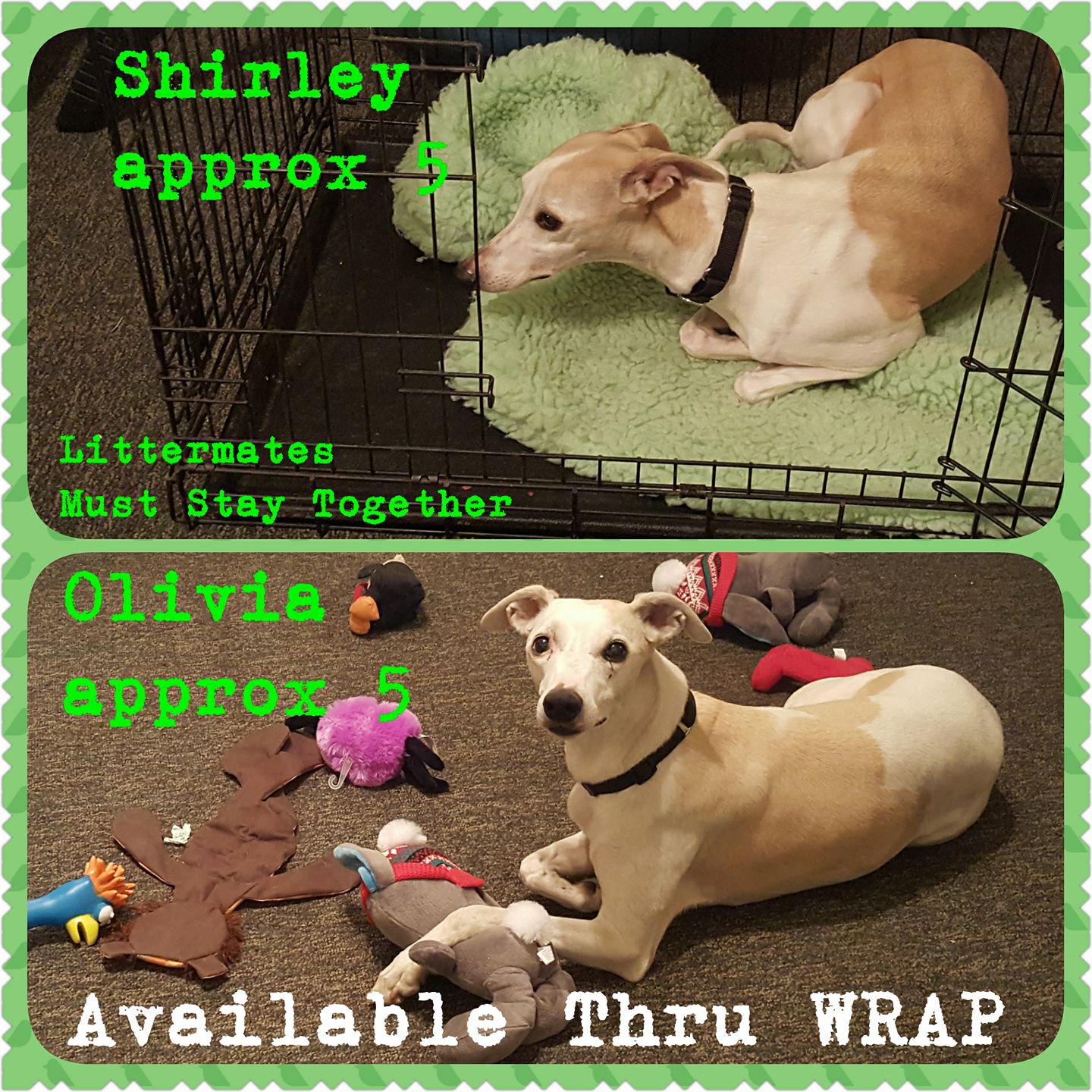 An adoption application is REQUIRED to be submitted before you contact a WRAP foster volunteer about this rescue or others currently available for adoption. Please submit an application. WRAP volunteers may respond to applicants and will make final decisions on adoptions. We will keep your application on file for six months.
WRAP does not ship dogs and prefers to place Whippets in homes within a reasonable driving distance from the foster home. If the WRAP volunteer fostering a dog does not live in your state you may contact them at the email address shown above to inquire after you have submitted an adoption application.