Name of Whippet, Location: Adopted: Dexter, 10 years old age, Male, Eagle ID
Location Category: Now Adopted
Name of foster volunteer: Dexter
Email: zookeepin@aol.com     Phone: 801-580-9329
Address:
Dexter is a beautiful and gentle ten-year-old male red and white Whippet. He is currently being fostered in the in the Eagle Idaho area. He has two other whippets to run around with and has adjusted to even the 16 month old hell raiser. He's still adjusting but has been the most perfect house guest!
Dexter is completely house-trained, a fabulous leash walker, and knows the commands to come and sit. Dexter loves to play and run with the other Whippets. Most of the time, though, you'll find him lounging on the couch, on the back patio or his bed, which strongly resembles my bed.
Dexter is neutered, is up to date on all vaccines and heartworm prevention. He is a Whippet with the obligatory Whippet prey drive so should be watched around cats or similar prey animals and have an adequately fenced area to run in. I do not recommend a dog park at this time because he does get quite anxious when two dogs are playing and wrestling about. He likes a quiet and calm environment like most of us when we get older. If you think that you would be able to provide a proper home and meet the qualifications, please Contact us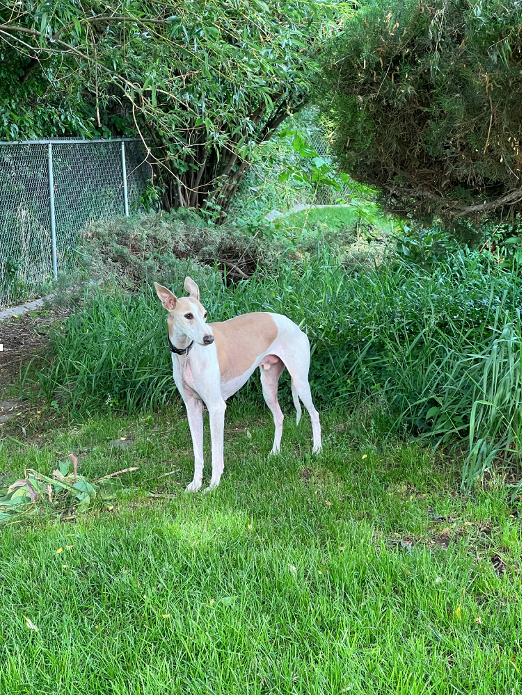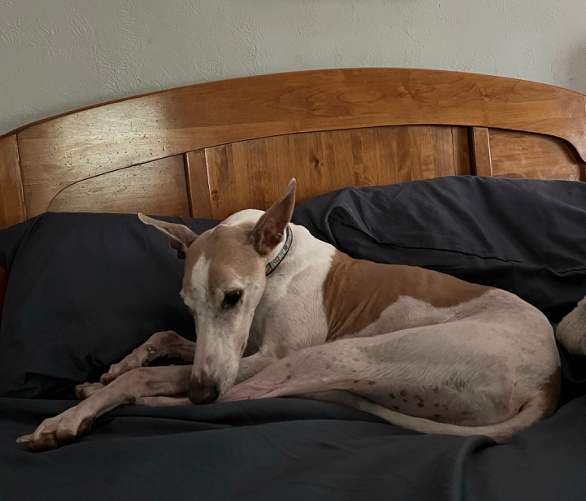 An adoption application is REQUIRED to be submitted before you contact a WRAP foster volunteer about this rescue or others currently available for adoption. Please submit an application. WRAP volunteers may respond to applicants and will make final decisions on adoptions. We will keep your application on file for six months.
WRAP does not ship dogs and prefers to place Whippets in homes within a reasonable driving distance from the foster home. If the WRAP volunteer fostering a dog does not live in your state you may contact them at the email address shown above to inquire after you have submitted an adoption application.