Name of Whippet, Location: Adopted: Zoe, 8-year-old female, Avondale, PA
Location Category: Now Adopted
Name of foster volunteer: Rob Teti
Email: VeggieVetDVM@aol.com     Phone:
Address: Avondale, PA
Meet Zoe, the charming 8-year-old spayed Whippet searching for her forever home. Zoe is a delightful companion with a heart full of love to offer. If you're looking for a loyal and affectionate companion, she might be the perfect match for you.
Zoe's enthusiasm for life shines brightest when she's out and about, exploring the world on leisurely walks. She'll gladly accompany you on your adventures, her sleek frame gliding gracefully by your side. Her leash manners are good, making every stroll a enjoyable.
Indoors, Zoe is a perfect well-mannered companion. She is fully house trained, ensuring a clean and stress-free living environment. Zoe relishes human affection and cherishes moments spent being pampered with pets and cuddles. Her warm, expressive eyes and gentle demeanor will capture your heart.
It's important to note that Zoe struggles with separation anxiety, which means she thrives best in a home where her owner(s) are around most of the time. She longs for the comfort and reassurance of your presence and will shower you with gratitude for your companionship.
While Zoe adores people, she does have some reservations around other dogs, occasionally displaying anxiety and fear that can lead to reactive behavior. To ensure her happiness and well-being, Zoe's ideal home would be one where she's the sole pet. This way, she can bask in your undivided attention and enjoy a peaceful, loving environment.
If you have a spacious yard for Zoe to stretch her legs and live in a welcoming neighborhood where you can take leisurely walks together, you might be the perfect match for this sweet Whippet. Zoe is ready to fill your life with affection and companionship, so if you can provide her with the loving home she deserves, please consider welcoming her into your heart. Please complete and submit an ADOPTION APPLICATION.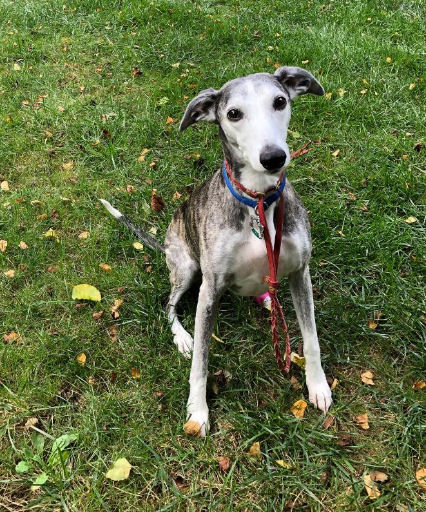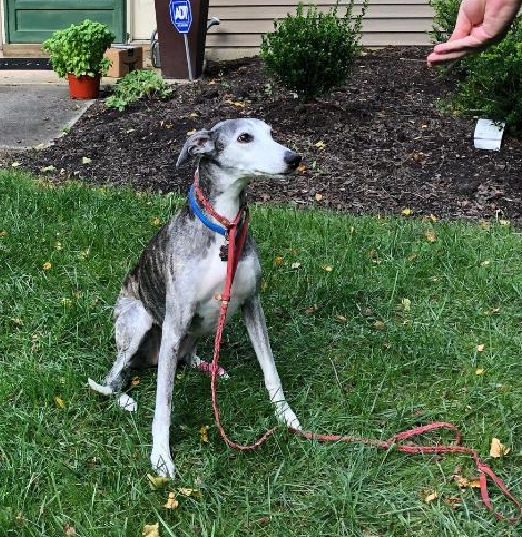 An adoption application is REQUIRED to be submitted before you contact a WRAP foster volunteer about this rescue or others currently available for adoption. Please submit an application. WRAP volunteers may respond to applicants and will make final decisions on adoptions. We will keep your application on file for six months.
WRAP does not ship dogs and prefers to place Whippets in homes within a reasonable driving distance from the foster home. If the WRAP volunteer fostering a dog does not live in your state you may contact them at the email address shown above to inquire after you have submitted an adoption application.