Name of Whippet, Location: ADOPTED: Billy, 5 year old, male, San Antonio, Texas
Location Category: Now Adopted
Name of foster volunteer: Elizabeth Cygan
Email: ercygan@gmail.com     Phone:
Address: San Antonio, Texas
ADOPTER REQUIREMENTS: (Not necessarily the only requirements)
Must live in Texas, Billy will not be sent out of State
Must have a 6′ fence.
Must NOT live in an apartment
Must NOT have cats or toy breed dogs
Meet Billy!
Billy is a very loving, very playful and sweet young boy. Billy needs a home with lots of love, attention and a little bit of patience. He is believed to be between 4-5 years of age; however, you would never know it based on his playfulness, and puppy like demeanor. Because of this, he can be a little mischievous when not supervised. Like puppies, Billy likes to explore the world around him with his mouth and can be a little bit "mouthy" when he gets excited. Billy is very energetic and requires a secure, fenced back yard to run around in to burn off some of that energy, as well as daily walks. Billy is a bright and inquisitive boy, who likes mental stimulation. He would do well with some training and plenty of play time (he LOVES to play outside and try to catch a frisbee and loves it when you throw a ball for him) with his family and is happy to follow you around the rest of the day (think VELCRO) and snuggle with you on the couch when you are relaxing.
Billy is crate trained, walks nicely on a leash and is clean in the house. Billy would do best in a home without small children and with another dog his size that matches his energy level. Once he is comfortable with his new buddy he will romp and play! He has an excellent prey drive and loves chasing the squirrels and cats out of his yard. Billy is not a starter dog and should be placed with people familiar with his breed. Billy does not have a reliable recall and should be considered a flight risk in the beginning (which is true of most sight hounds in a brand-new home). Care should always be taken at doors and gates.
If Billy sounds like the boy for you, please submit an application. I cannot consider any potential homes without an application on file.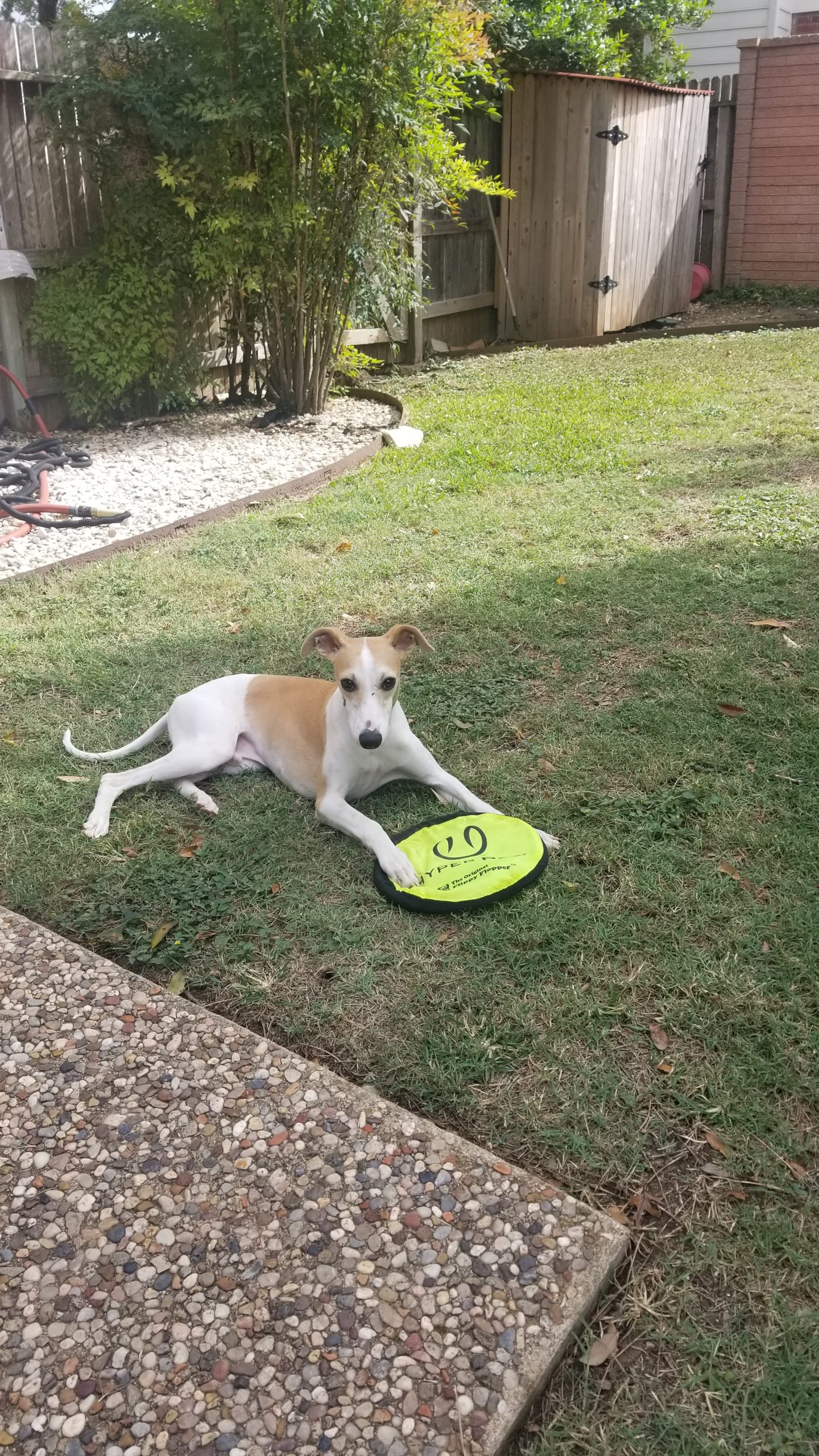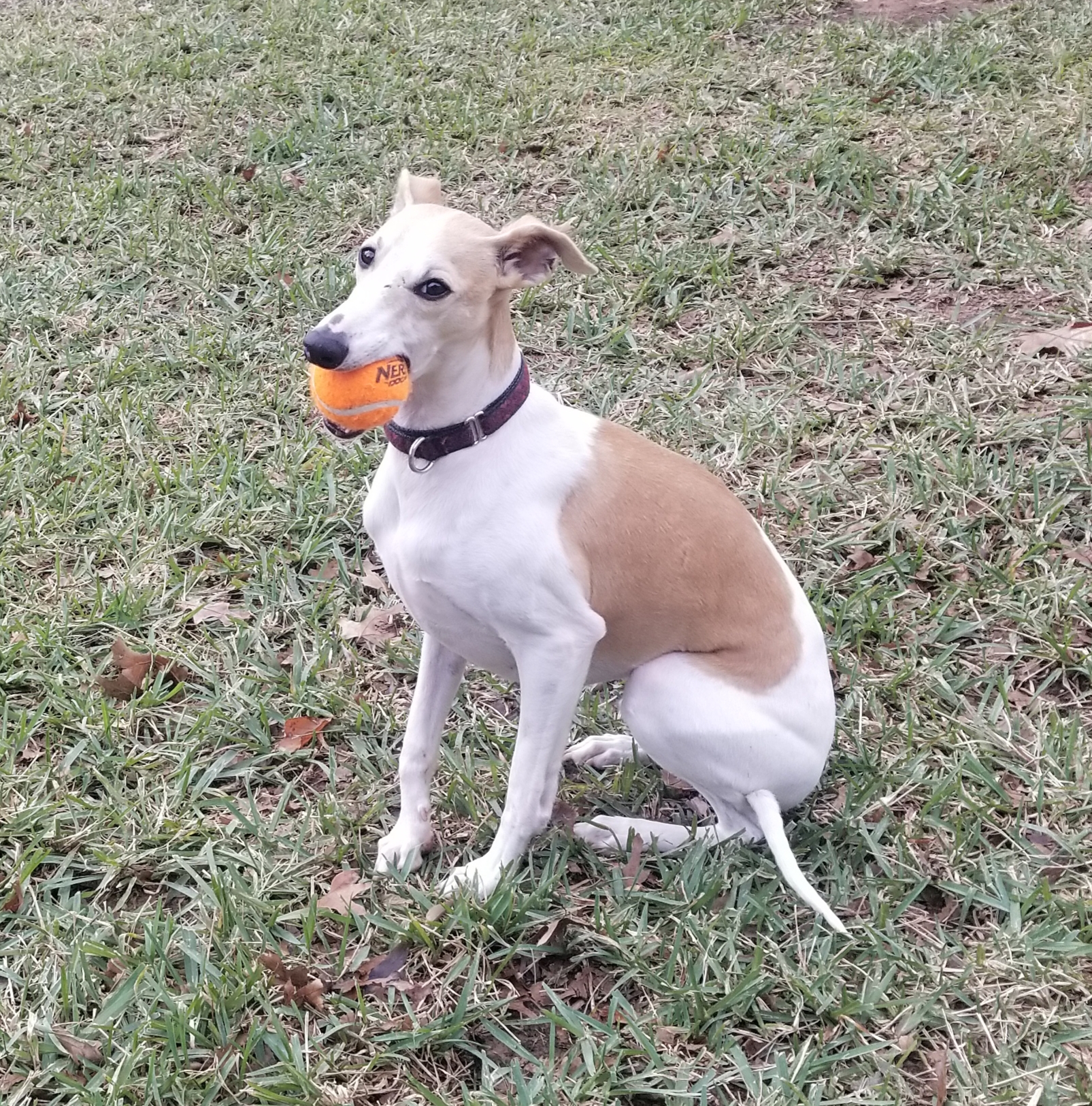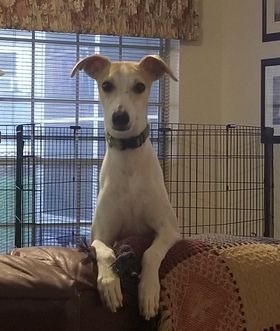 An adoption application is REQUIRED to be submitted before you contact a WRAP foster volunteer about this rescue or others currently available for adoption. Please submit an application. WRAP volunteers may respond to applicants and will make final decisions on adoptions. We will keep your application on file for six months.
WRAP does not ship dogs and prefers to place Whippets in homes within a reasonable driving distance from the foster home. If the WRAP volunteer fostering a dog does not live in your state you may contact them at the email address shown above to inquire after you have submitted an adoption application.